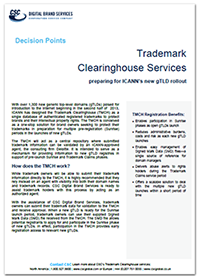 With more than 1,300 new generic top-level domains (new gTLDs) poised for introduction to the Internet beginning in the second half of 2013, ICANN has created the Trademark Clearinghouse (TMCH) as a single database of authenticated registered trademarks to protect brands and their intellectual property rights.
The TMCH is conceived as a one-stop solution for brand owners seeking to protect their trademarks in preparation for multiple pre-registration (Sunrise) periods in the launches of new gTLDs.
As a registered agent to the TMCH, CSC Digital Brand Services is ready to assist you in registering your trademarks.
Download our Trademark Clearinghouse Decision Points Information Sheet to get the answers you need.
Trademark Clearinghouse Services – what you need to prepare for ICANN's new gTLD rollout